---
-Friday July 14th-
One marked difference between the publicly-funded BBC and the privately-funded ITV is that when a show deals with 'issues', the BBC have to offer a helpline or website for 'anyone affected by the events in tonight's episode'. ITV, on the other hand, can let the viewers go hang. There have already been numerous storylines in this week's Emmerdale which would warrant a BBC helpline (self-harming, drug addiction, wrench attacks, to name but three), but it's the casual alcohol abuse that has really taken me aback.
Let there be no doubt about this: the people of Emmerdale are absolute pissheads. They are totally caning it, night and day. As already mentioned this week, even the vicar necks pints at the rate of a third division scrum-half on a stag weekend. It is incessant. Red wine, white wine, ale, lager, shorts, longs. Morning, noon, night. Glug glug glug. 'Fancy a pint?' 'Oh, aye.' You might think I'm exaggerating here. All I can say is, see for yourselves. (Easily done. It's on every frigging night.) In this evening's episode the Bespectacled Buffoon who got a promotion yesterday, wetted his new job's head with a lunchtime pint or two with his boss (a seventeen-year-old David Cameron who moved and talked like Alan Partridge in the Hamilton Water Breaks video). 'I am having a good first day,' the Buffoon said, raising his pint. Honestly, when was the last time you had pint on a lunch break? But it was Jake Humphrey who best demonstrated the village's alcoholic plight. When the Sharon Osbourne Lite barmaid asked what he wanted to drink he replied, 'Just a lager.' Just a lager. It's only lunchtime, after all.
I suppose if I lived somewhere as wacky as Emmerdale, I'd need a few drinks, too. Tonight's episode bordered on the surreal in places, as though ITV were trying to fulfil their quota of arts programming by stealthily slipping it into a soap opera. Among many other things, there was an impromptu singalong to Lionel Richie's All Night Long, a legal case in which the judge wanted to watch a sex-tape to ascertain whether or not the defendant had an 'adventruous' personality, and a pig's leg in a carrier bag.
The legal case story was a new one on me so I couldn't go into too much detail even if I wanted to, which I very much don't. But the lady in question had been taken to court by her husband for whatever reason and he'd handed in the sex-tape as evidence of his wife's depravity (regardless of the fact that, I assume, he was in the video, too). Naturally, she was embarrassed about the whole affair and curled up at the idea of the video 'being shown to a room full of strangers.' Yet, later on in the episode, when a friend mused that the wife 'was going t' be humiliated in front t' courtroom', she got strangely defensive, as though, although she didn't want the world to watch the sex tape, it did actually contain some of her finer work.
While on the subject of rural semis, things were no less stressful in the Sloth household. He may have moved out of his Goonies cave, up into broad sunlit uplands, but his Geordie girlfriend (one of the salon gossips) was putting immense pressure on him to pull out all the stops for her upcoming birthday. She wanted to 'jet to Paris, like' or 'get her freak on, like'. Sloth wasn't one for such endeavours. For a start, he was frightened of going to Paris in case the locals locked him up in the Notre Dame bell tower. In desperation, he looked at a website for a Leeds nightclub. Geordie girl got excited. What Leeds lacks in its ability to fix wet cameras, it makes up for with its nightlife. She said she could most definitely get her freak on at a place like that, like.
'Yeah,' replied poor old Sloth, 'but the DJ would have to be SlimBoy Fat at them prices!'
It was a landmark moment in British television history: it marked the 1,000,000th time a script had made a joke where a character got the name of a popstar wrong.
Geordie got annoyed at her partner's lack of superficial love for her. 'Leave it wimme, love,' he assured her. He'd think of something. Later on, still bereft of ideas for how to placate his embarrassingly demanding girlfriend, Sloth even went so far as to look at getting tickets for a petting farm. He'd hit the drink by the end of the episode. Mind you, so had everyone else.
Having reached a sense of conclusion yesterday, tonight's episode ignored the vestry-pumping love affair betwixt the vicar and the lout. There was still time for Jake Humphrey and Aaron, though, who, as you'll no doubt remember, had decided to knock their relationship on the head. Humphrey was at the family home, where he was treated to a breakfast of fried vulcanised rubber and baked beans. His mother called him 'pet' and said that Aaron needed time to sort himself out. I guess attempted murder with a wrench is easily forgotten oop north, where t' folk are harder. At the episode's close, Jake Humphrey and Aaron met in the pub and said their goodbyes. Humphrey wanted to stay together. 'We're almost perfect,' he said.
Love is blind.
And thick.
It was the pig's leg in a carrier bag that really stole the show, however. Uncle Dracula, who worked in the cafe and was frightfully, painfully, unbearably upbeat about everything, produced it from under the counter. Even in a village as proud of its agrarian roots as Emmerdale, the sight of a dismembered pig's member protruding from the top of a blue bag was enough to make the morning cappuccino suppers bring sick up in their mouths. It was a gift from one local t' another, Uncle Dracula said, handing it over to somebody who looked as though they'd rather lick the rim of The Woolpack toilet than take the butchered trotter home. Things would have been different in Emmerdale Farm, back in those hardy days of the 1970s. Back then, the pig's leg wouldn't have even been in a carrier bag. It would've been slapped straight onto the counter, drenched in vinegar and ox-blood, then gnawed at by all and sundry. The scant remains would be taken home and tossed into some sort of stew. It was a simpler time.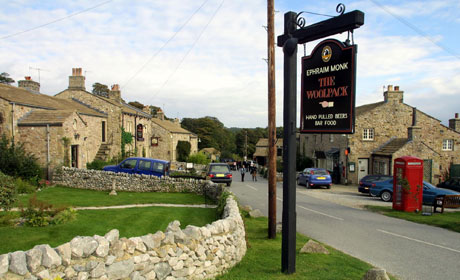 I can think of no better way than a pig's leg to draw my week of Emmerdale to a close. It's a queer old haunt: a land of red phoneboxes, artificial turf, trend-bucking devotion to God, rife alcoholism, non-threatening extreme violence, lonely extras, National Trust brickwork, sex-tapes, oven chips, roaring fires, white people, choirs, Range Rovers, and someone who looks like Sloth. And all crammed into a weekly three-and-a-half hours…
I think I need a helpline.